Rams

DAI EITILL RAM 01H 1241Z "Mani"

---
Reference Rams

Beau at 5 months
---
---

HYA RAM B2H 100x "Greyson"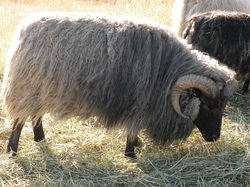 Greyson 1 year
---
---

TCE AI RAM O1H 591X "Odin"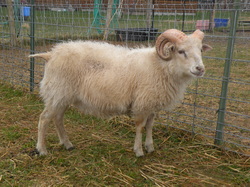 one month after spring shearing 2011
Odin was an AI ram from The Creek's Edge in South Dakota. His sire, Ylur, is originally from the Hjardarfell farm in Iceland and is currently at stud with the Southram breeding farm. Odin's dam is from Mango, Gaddur and Laekur lines. He had correct confirmation, a beautiful head, a strong back and rump with a very dense fleece.
Odin carried black and moorit as well. He carried grey and possibly spotting.
DOB 4/15/2010
(twin)
Sire: Ylur
05805
Dam: TCE EWE B2H 430U
---
---
HYA Ram B2H 1Z (Loki)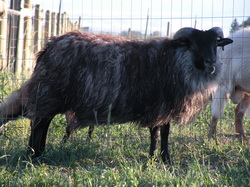 Loki at 3 months
Loki was the last ram (a twin) I had by Odin out of Hazel. His birth weight was 9 pounds even and he was 30 pounds 4 oz one month later on May 7. At 17 months I decided to cull him from the flock because I did not like his horn genetics- would have to trim them to keep them from growing into his head. Loki's hanging weight was just under 80 pounds at 17 months of age. I retained a daughter form Loki this year, Basil, and will be interested to see how her line progresses.

DOB: 4/7/12 (twin)
Sire: Odin
Dam: Hazel

---