Rams

Beau at 5 months
Beau has a very meaty structure with an exceptional hornset and fantastic fleece. His has a beautiful head with a lovely eye as well. His personality is friendly but not pushy. Beau is a real joy to have in the pasture! He and his twin, Bea, were orphaned at 3 weeks of age and have had some catching up to do size wise. But he has grown nicely and as a yearling is developing into the fine ram that I have been hoping he would be. His mother, Boo, had an exceptionally soft fleece and Beau sure seems to carry that trait! Beau settled two ewes last winter and as a result has twins out of Hazel and a single ewe lamb out of Polly. All three lambs have good structure and above quality fleeces. I plan to breed Beau to my mature ewes this fall.
DOB:
4/17/2012
Sire:
HYA RAM B2H 100X
Dam:
LVR EWE B2SH 012X
---
---

HYA RAM B2H 100x "Greyson"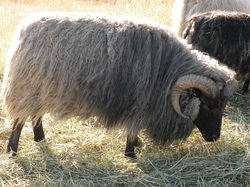 Greyson 1 year
Greyson was bred by Willow Springs Ranch just north of Bozeman and comes from Creek's Edge lines in South Dakota. Greyson has AI rams Grimur and Tyr in his pedigree. He has a long, dense, black gray fleece and the widest horn set you could ask for. I have been most impressed with the size and quality of the lambs Greyson has produced over the last three breeding season. He never fails to throw fast growing, structurally correct lambs. Greyson carries moorit and solid.
B ovis, Cl, and OPP negative as of April 2013.
DOB 5/9/2010 (twin)
Sire: TCE RAM B2H 411U
Dam: TCE EWE O1H 380T
---
---
Reference Rams


TCE AI RAM O1H 591X "Odin"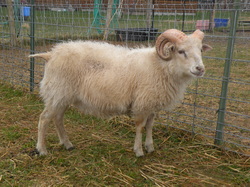 one month after spring shearing 2011
Odin was an AI ram from The Creek's Edge in South Dakota. His sire, Ylur, is originally from the Hjardarfell farm in Iceland and is currently at stud with the Southram breeding farm. Odin's dam is from Mango, Gaddur and Laekur lines. He had correct confirmation, a beautiful head, a strong back and rump with a very dense fleece.
Odin carried black as a base color and possibly moorit as well. He carried grey and possibly spotting.
There were two ram lambs born in 2011 by Odin. One was out of Hazel and is white; the other was out of Telly and is black grey.
In 2012 Odin sired black grey twins out of Hazel.
DOB 4/15/2010
(twin)
Sire: Ylur
05805
Dam: TCE EWE B2H 430U
---
---
HYA Ram B2H 1Z (Loki)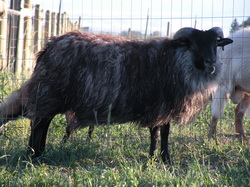 Loki at 3 months
Loki was the last ram (a twin) I had by Odin out of Hazel. His birth weight was 9 pounds even and he was 30 pounds 4 oz one month later on May 7. At 17 months I decided to cull him from the flock because I did not like his horn genetics- would have to trim them to keep them from grwoing into his head. Loki's hanging wieght was just under 80 pounds at 17 months of age. I retained a daughter form Loki this year, Basil, and will be interested to see how her line progresses.

DOB: 4/7/12 (twin)
Sire: Odin
Dam: Hazel

---