Rams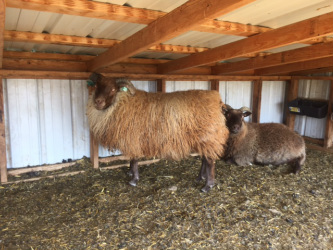 HYA Ram M2H 18C. "Tai" is a lovely grey moorit and carries solid. Large lamb and very fast growing. Exceptional confirmation, long body, broadly built, good depth, exceptional fleece. Horn set appears to wide. Grand Champion Icelandic Ram and overall Supreme Ram at the Big Sky Fiber Festival sheep show in Hamilton, MT on June 13, 2015. The judge could not have been more complementary of this guy!

DOB: 3/15/15 (twin)
Sire: Mani
Dam: Runa

---
Reference Rams

DAI EITILL RAM 01H 1241Z "Mani"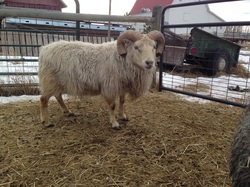 Mani is white, carries moorit and black, and carries grey. Hcame from Dancing Aspens Farms in Kalispell. Mani has a lovely fleece, strong stocky build, excellent confirmation, very mellow temperament. His horns were crowding slightly so I did wind up trimming them, not sure if they would have been okay if left alone. Paternal grandsire is AI ram Kveikur.
Click HERE to view Mani's pedigree
DOB: 4/18/2012 (twin)
Sire: TCE AI Ram B5SH 672Y (twin)
Dam: TCE EWE M2H193P (twin)

---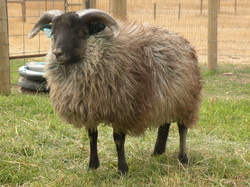 Beau at 5 months
---

HYA RAM B2H 100x "Greyson"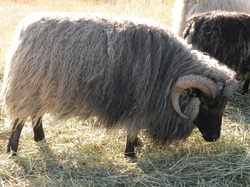 Greyson 1 year
---

TCE AI RAM O1H 591X "Odin"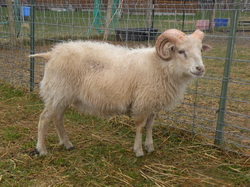 one month after spring shearing 2011
Odin was an AI ram from The Creek's Edge in South Dakota. His sire, Ylur, is originally from the Hjardarfell farm in Iceland and is currently at stud with the Southram breeding farm. Odin's dam is from Mango, Gaddur and Laekur lines. He had correct confirmation, a beautiful head, a strong back and rump with a very dense fleece.
Odin carried black and moorit as well. He carried grey and possibly spotting.
DOB 4/15/2010
(twin)
Sire: Ylur
05805
Dam: TCE EWE B2H 430U
---