Contact me if you are interested in purchasing any items listed below and I will let you know the product and shipping total before accepting payment via personal check or direct deposit to Hyalite Farm's Paypal account.
---
Milk Based Soaps

: Olive oil, coconut oil, palm kernel oil, goat milk, distilled aloe juice, sodium hydroxide crystals, essential oils.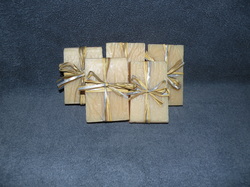 Nothing beats the cleaning and moisturizing power of Hyalite Farm soaps. Whether goat or sheep milk based, these suds provide your skin with nutrients that encourage a healthy epidermal environment while
promoting your skin's proper Ph level
. Sheep and goat milk contain proteins and fatty acids that nourish your body leaving your skin soft and clean, free of chemical residues.
Hyalite Farm soaps come in a variety of essential oil combinations. Most batches are made with goat milk unless otherwise noted that it is sheep milk based. I have the following blends currently available:
lemongrass/sweet basil/clary sage
lavender/geranium/sweet basil
balsam fir/eucalyptus/ginger
jasmine/sweet orange/eucalyptus (sheep milk)
out of stock
balsam fir/peppermint/sweet orange
purely plain (no added essential oils)
larger bars 4.5-5 oz
: $10
+
smaller bars 3 -4.5 oz
:

$6-$9


*price

depends on weight*

---
---
Felted Wool Outer Wrap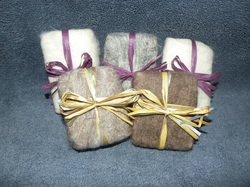 Enjoy the mild exfoliating action of the Icelandic wool outer wrap. It feels soft, like a washcloth, and helps prolong the life of the soap. When using the bar for the first time make sure to thoroughly wet the soap and keep the wool wrapped evenly around the bar. The wool continues to felt with each use as the fibers lock for a secure fit.
Try the wool outer wrap today!
$2.00 extra for wool outer wrap
---
---
Icelandic Wool Yarn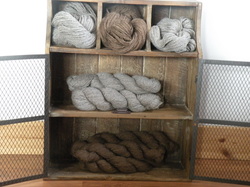 My Icelandic wool is processed locally at
Thirteen Mile Lamb and Wool
up Springhill Rd. Skeins are 3 ply bulky weight, and each is 100 grams (3.5 oz) and roughly 155 yards each.
I have a variety of colors available below, including
oatmeal/taupe, black, white, and heather gray.
$16
/skein; $15/skein when ordering 2 or more skeins
---
---
Icelandic Wool Rovings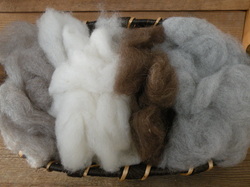 Whether you are a hand spinner, felter, rug hooker, or crafty person you can find beautiful Icelandic rovings for your next project right here at Hyalite Farm. I currently have heather grey, white, and moorit/brown in stock.
Fiber is sold in 4 oz increments with a 4 oz minimum.
$3.00/oz (4 oz minimum)
---
---
Icelandic Wool Batts

For your hand spinning, felting and other crafty needs (including your needle felting projects), I have wool felting batts available in a variety of colors including brown, oatmeal brown, white, and heather grey.
Prices vary according to size of the batt. Most batts are roughly 8 oz.
$3.00/oz (4 oz minimum); $22 for a full 8 oz batt
---
---
Iceland Wool Dryer Balls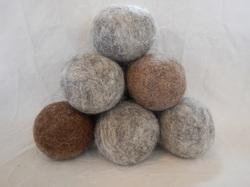 There is no need to add sheets of chemicals to your dryer load when using these 100% felted Wool Dryer Balls from Hyalite Farm Icelandic Sheep. The wool absorbs moisture as your clothes dry, maintaining a humid environment that leaves your natural fiber garments soft and free of static electricity. Place one or two balls in your dryer with each load of laundry. Each Dryer Ball will last for years! Also, feel free to add a few drops of your favorite essential oil to the dryer ball to create a custom scent for those clean clothes.
$8/1 oz ball
$15 per pair
---
---
Humble Bee Wildflower Honey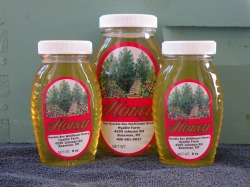 Raw, strained, unmedicated, unadulterated, pure, wildflower honey. This honey is extremely light colored and full of flavor. Yum!

Only Available Locally



16 oz recyclable Pete plastic jar
$8.00
---
---
Humble Bee Pucker Ups

:

beeswax, shea butter, cocoa butter, olive oil, calendula oil, jojoba oil, almond oil, evening primrose oil, essential oils.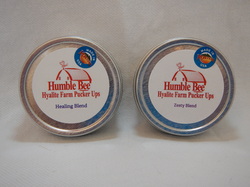 Get relief from chapped lips, dry skin, eczema, and more. The beeswax found in these Pucker Ups comes from Hyalite Farm beehives when enough wax is available to harvest. When my own beeswax is not available, I order from Mountain Rose Herbs.

Pucks are 1 oz each

.
Hyalite Farm Pucker Ups come in a variety of essential oil combinations. I have the following blends currently available:
Earthy Blend
: tea tree, eucalyptus, sweet orange, lavender
Zesty Blend
: lemongrass, peppermint, eucalyptus, balsam fir
Fragrant Blend
: jasmine, sweet orange
Purely Plain: no essential oils added

$7.00
$20 for 3 pucks
---
---
Beeswax Candles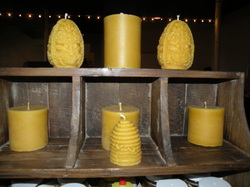 Hyalite Farm candles are made from 100% beeswax. I use the wax from my own hives when enough is available. Otherwise, I order the highest quality beeswax available from Mountain Rose Herbs located in Eugene, OR. These candles burn very slowly and have a wonderful honey aroma. Contact me to find out what candles I currently have in stock. Treat yourself to a locally made beeswax candle today!
---