Ewes

All Hyalite Farm sheep are negative for OPP and CL. I test for CL before any goats or sheep enter the premises. I don't retest for CL as I have never had a case of CL on farm. This is a disease free herd and I plan to keep them that way!

I have a variety of ewe lambs and proven ewes for sale. Contact me for pricing!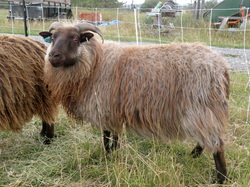 This gray moorit ewe, Hazel, came from Aspenlund Farm in Hamilton, MT. She is a proven mother and prolific milker with a friendly personality. Hazel consistently produces large, fast growing lambs as seen by her daughter, Telly (below), her 2011 ram lamb "Balder", and twin 2012 lambs, and twin 2013 lambs.
DOB 4/26/08
(twin)
Sire: OLNESS RAM 03SH 4T
Dam: ACW HBT EWE 18S
---
---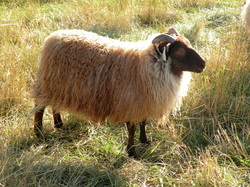 Runa is
a beautiful gray moorit ewe
from The Creek's Edge in South Dakota. She is 68% AI bred from Grani, Lodi, and Kveikur lines. Runa has excellent confirmation, a beautiful head, gorgeous fleece, and a calm disposition.
Runa won her yearling ewe class and took reserve grand champion ewe at the ISBONA sheep show during the Big Sky fiber Festival in Hamilton, MT on June 11, 2011. The judge was impressed by her strong hind end, correct confirmation, sturdy build, fleece, and overall appearance.
Runa's 2011 ram lamb was reserve champion ram at the same ISBONA sheep show after winning a competitive ram lamb class. She delivered single ram lambs by Greyson in 2011 and 2012. In 2013 Runa had twins by Greyson, a ram and a ewe lamb. Finally I get to keep a ewe lamb!
Runa's lambs continue to impress me with their excellent structure, rapid growth, and beautiful hornsets.
DOB 4/17/10
(single)
Sire: TCE AI RAM O1H 524W
Dam: TCE AI EWE B2H 414U
---
---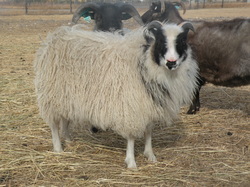 Polly at 4 months
Polly is a beautiful ewe, very thick boned with straight legs and a wide based stance. Polly is by "Balder" and out of a ewe named "Petunia" from Poor Orphan Creamery located in Laurin, MT. This creamery raises Icelandic sheep for the breed's wonderful milk, nd has developed a variety of sheep based artisan cheeses. Polly has a lovely (spotted) solid black fleece and a strong, solid structure.
DOB:
6/25/2013 (twin)
Sire:
HYA RAM o1H 1Y
Dam: WBL Petunia EWE B2P 11X
---
---
HYA EWE M2H 15B "Fern"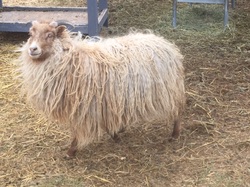 Lilly's 2014 ewe lamb "Fern" (single). Moorit, grey, carries solid from dam, carries spots from dam. Fern was born mid summer last year and it took a while for her to catch up but now that she has filled out she looks a lot like her mother. Good confirmation, nice top line, straight legs, great length and depth. Her fleece is exceptional.

DOB: 7/14/2014 (Single)

Sire: Mani
Dam: Lilly


---
---
HYA EWE 01H 14B "CeCe"





DOB: 4/7/2014 (twin)

---
---
HYA EWE (Pinot)

---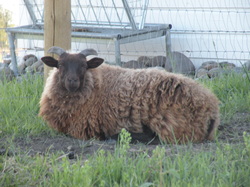 Bea at 3 months
Bea is a lovely solid moorit ewe lamb out of Boo by Greyson. Unfortunately Boo died when her lambs were just under three weeks old. They are smaller than their peers since they didn't have the benefit of mom's milk though they did take to goat milk in small amounts. Boo has a gorgeous fleece, sure to be as soft and lustrous as her dam's. She has a fantastic horn set as well. Bea as bred to Loki and is due in May.

DOB: 4/17/12 (twin)
Sire: Greyson
Dam: Boo

---
HYA EWE (Osa)

---
HYA EWE (Basil)
---
---
Retained 2015 Ewe Lambs

Hazel's ewe lamb

---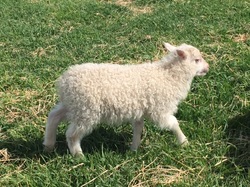 Lilly's 2015 ewe lamb is gorgeous. She is a twin to a ram lamb. She is white, carries moorit, spotting, and either badgerface or solid from dam; moorit or black from sire. This lamb is growing nicely and, if she is anything like her dam and her sister, will make a lovely addition to any flock.


NFS
---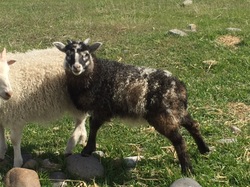 Polly's 2015 Ewe Lamb #1 "Pepper". Black, homozygous grey, carries spotting from dam and either black or moorit from sire. Very friendly bottle lamb.


---
Polly's ewe lamb #2
---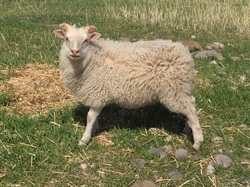 Runa's 2015 ewe lamb "Qi" (twin to ram lamb "Tai"). White, carries moorit form dam and either black or moorit from sire. Likely moorit since there is no black pigment to be found. Carries either grey or solid from dam. Very friendly bottle lamb.




---
Osa's ewe lamb #1 "Ona"
---
Osa's ewe lamb #2 "Opa"
---
Reference Ewes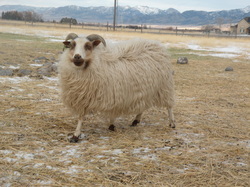 Lilly is a beautiful badger faced moorit ewe with heavy spotting bred by Leveque Ranch in Cascade, MT. She has a soft, dense, lustrous fleece and an amazingly friendly disposition. Lilly's AI background includes Aegir and Bambi. She is a wonderful addition to the flock. Lilly had a single ram lamb by Balder in 2012.
DOB 4/19/09
(twin)
Sire: LVR RAM M5H 514R
Dam: LVR AI EWE 01P 79T
---